Visitors & Green Fees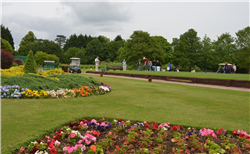 Bishop's Stortford Golf Club extends a warm welcome to visitors. For up to 12 players, telephone Simon Sheppard and his team in the Pro Shop on 01279 651324 and they will help you with your booking. We respectfully request that you observe our dress code.
MEMBERS GUEST
9 Holes: Weekdays £14, Weekends £19 (Juniors £12)
18 Holes: Weekdays £24, Weekends £29 (Juniors £15)
27 Holes / Day Rate; Weekdays £29, Weekends £35 (Juniors £20)


VISITOR (Weekdays only)
9 Holes £24 (Juniors £20)
18 Holes £48 (Juniors £27)
27 Holes / Day Rate £58 (Juniors £34)

All green fees include complimentary third party liability insurance so that you are covered if you hit someone while playing the course. For details, please ask in the Pro Shop.
We are happy to accept bookings for charity golf days. Here is our policy on such bookings:
Charity Golf Days
Need more Info:
Special Offer: Our Winter Warmer is Back!
18 holes with food £35 per person OR a four-ball can play for £33 per person with food
The offer runs from 28th October 2019 to 29th March 2020

The offer is available Monday to Friday, excluding bank holidays and is subject to availability. Catering is available from 10.30am-3.30pm

We kindly ask that you observe our dress code

To book call our Pro Shop on 01279 651324

Our chef has created a tasty selection of winter dishes for you to choose from:

Full English Breakfast
Ham, Egg and Chips
Sausage, Egg and Chips
2 Bangers & Mash with Peas and Gravy (V available)
Jacket Potato with filling of the Day and Side Salad