BSGC Snooker League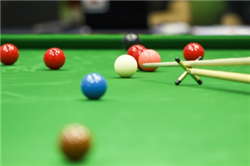 Start of the snooker season with the Snooker Golf Day

Won by Peter Rickwood 36pts
2nd place Dave Gladwin 35 pts

Nearest the pin 8th Mike Standen

Nearest the pin 15th Peter Rickwood

Knockout Snooker – Mick Shaw beat Ian Tinsley
The 2017-18 league championship was won by team 2 who beat team 5 in a playoff. The players in team 2 were:

Andie Hardie, Mike Giltrow, Mick Shaw, Gordon Campbell, Jim Jaggers, Ken Wilson, Peter O`Reilly, John Healy, Les Skepper, Frank Morse, John Devlin and Nick Hadley
Sherry Cup: Andie Hardie beat John Healy
John Mealing Pairs Cup: Chris Clarke & Ted Nately beat Nick Hadley & Mark Law
Hawkins Cup: Team 1

Highest Break: Stephen Toelkemeier 58pts
New members of all standards are always welcome. Any new players interested in joining should contact Ian Tinsley or Stephen Toelkemeier.
About the snooker league. The snooker league starts week commencing 2nd October and we are always looking for additional players. We operate a handicap system to try to balance out players' different abilities.
League games are played on a Tuesday, Wednesday, Thursday evening throughout the winter months.