Men's Section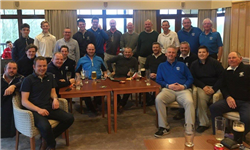 We have a very active men's section here at BSGC with 33 major trophies contested throughout the season.
There are regular midweek and weekend Medals and we run a Summer Order of Merit and a Winter Order of Merit, where a member's best scores over six rounds count towards their place in the standings.

We also maintain the Bishops' Stortford World Rankings – structured in the same way as the official world golf rankings to judge who has been the most consistent player in club competitions.

For members interested in playing competitive golf, there is the option of playing for the Scratch Team, the Tiger's Team or in inter club matches.

Inter club matches are played at home and away each year against clubs in the local area. The format is four ball better ball, followed by an evening meal and results are said to be of secondary importance to having a good time with friends.

Our ethos here is fun within a friendly competitive environment! And it's a great way to meet and make friends.

If you are interested in playing in one of the above matches, the sign-up sheet is posted on the notice board six weeks before the match. You just need to put your name on it. The finalised team is then posted 2 weeks prior to the match.

Bishop's Stortford Golf Club has also entered into the Mail on Sunday Golf Club Classic which is a national Men's competition played by teams of five players playing better ball matches off full handicap.

Finally, male members have the option of joining the Bishops and The Harlow Golfing Society.